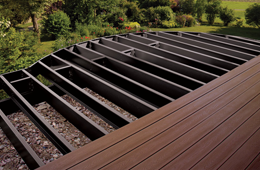 Have you thought about building a deck recently? Advance Deck & Sunroom, experts is deck design and custom work can help you find the right deck choices for you. There are millions of choices when it comes to woods, designs, landscaping, sizes and even the height of your deck can mean a lot to the right homeowner.
There are so many types of wood to choose from, though, as well as alternate materials such as composite decking or aluminum. Choose the right material for your family's needs, and you can expect many years of barbecuing and sipping lemonade on your deck with family and friends.
Depending on your area, climate and how you maintain your deck (We can help you maintain your deck, also) one could find themselves getting too friendly with a saw, deck cleaners and brushes.
This basic guide to deck types will help get you on your way to choosing the right deck for your family's needs, your budget and where you live, so you can enjoy many fun-filled years with your deck.
Wood
Wood is the most popular type of decking in the US. It has that natural, classic deck look, it smells nice, and soft woods are among the least expensive decking materials.
Wood decks require the most maintenance, though and in order to keep your wood deck from splitting, warping or rotting, you will need to re-finish it regularly (how often depends on wear-and-tear, climate and type of wood). Hardwoods like teak or ipé, while gorgeous and durable, can be more expensive than traditional woods.
We recommend that you factor in where you live when you're considering the type of wood to buy. For example, while decay-resistant redwood is plentiful and popular in the Pacific Northwest, it could cost you an arm and a leg to have it shipped to another part of the country, call us at 217-586-4840 to find out the best choices of wood here in Illinois.
Pressure-treated wood makes it possible to use inexpensive, less durable woods such as Southern pine for building decks. It tends to warp and bend more easily than hardwood, though, and the chemicals the manufacturer treats the wood with can affect its color. The chemicals used in pressure-treated wood are also poisonous, which makes it a bad choice if the family dog likes to gnaw things.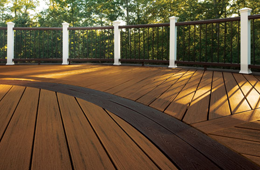 Composite
Composite decking has been growing in popularity in recent years. It is usually made of a combination of wood products and plastic, which manufacturers heat and shape into boards. There are two main types of composite decking: hollow composite, which is lighter and does not expand and contract as much when the temperature changes, and solid composite, which is heavier, stronger and looks more like wood than hollow composite, but will expand and contract more.
Composite decking doesn't require resealing like wood does, it won't give you splinters, and it tends to be more environmentally friendly because manufacturers can use recycled materials to make it. Composite decking also tends to be more stain-resistant than wood. As long as it has been treated with fungicide during the manufacturing process, composite decking resists rotting much better than wood does.
Plastic
Recycled polyethylene (ReHDPE) plastic is an environmentally-friendly option that helps keep used plastic products out of landfills. It doesn't need to be stained, and is lightweight and weather resistant.
The look can vary quite a bit depending on the brand, though. Plastic decks also require more substructure than other decks, as well, because the plastic needs more support to keep from bending.
Aluminum
Aluminum is an excellent decking material. It is very durable, stays cool in the sun and is resistant to fire and termites. It doesn't need to be stained, it's slip-resistant, it won't splinter like wood, and its color doesn't fade like other types of decking. It also won't warp or rot like wood or composite can.
Want to find out more about your options? Give us a call at 217-586-4840.